Paper Die Cutting / Coated & Perforated Papers
We are a paper converting company that offers Die Cut Paper Solutions with a Wide Range of Paper Converting Capabilities. We specialize in custom die cutting, perforation, and sizing as well as bulk orders of specialty papers.
At EMI Specialty Papers we pride ourselves in providing our customers with customized service and products. Our technical paper die cutting specialists are adept at finding solutions and turning ideas into products.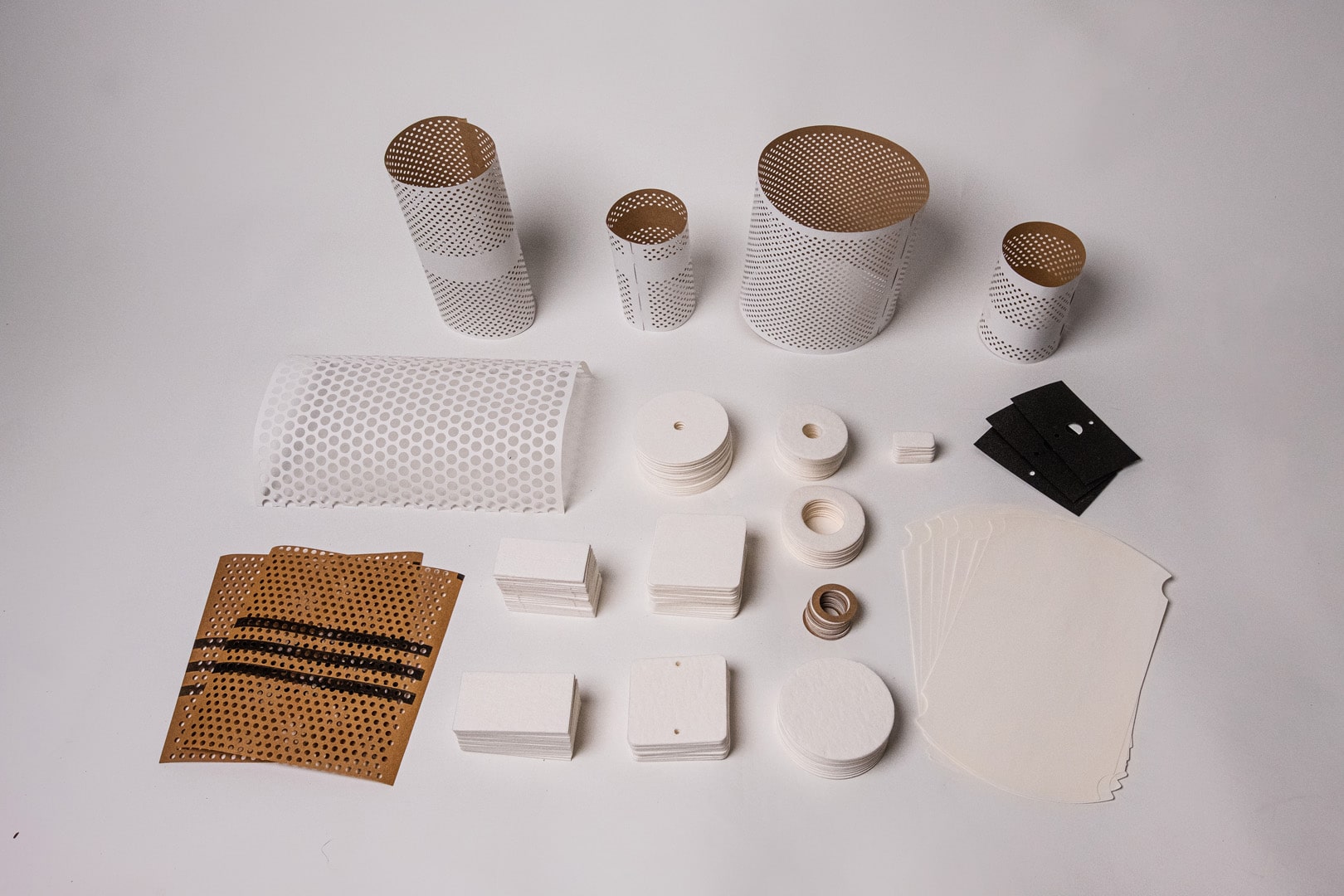 Our Perforated Paper capabilities:

Paper Die Cutting:
High speed rotary die cutting and progressive blanking, multi-cavity compound or laser die cutting.

Perforated Paper:
Perforated paper with overall holes of many sizes or micro-perforations for tearing. Intricate patterns with different shaped holes.

Kiss Cutting:
Precise partial depth cutting of laminates with adhesive backed materials. We have several presses with kiss cut capabilities.

Paper Slitting:
Wide and narrow roll specialists: high speed slitting and traverse or semi automated rewinding for very narrow width or small diameter rolls; with cores or coreless; US, metric, or custom cores available.

Custom Die Cut:
Intricate patterns or simple shapes, discs, rings and pads. From roll to roll, or sheets. ISO 9001, QS 9000.
Paper Sheeting:
Very small to very large. Contact us with your size or email a drawing or blueprint.

Printing:
2-color flexo and 4-color process with die or kiss-cutting, perforating, or laminating in line. Printing not available on all materials, width limitations. Call for details.
Paper Coatings:
Non silicone release paper and paperboard, poly propylene.
EMI's other paper converting capabilities include laminating of adhesives, transfer tapes with liners laminated to foil, film, paper, or nonwovens. We also have specialty coatings, kiss cutting, paper die cutting of pads, I/O discs, circles, rings and endcaps. Narrow roll slitting and extensive sheeting capabilities available, as well as specialized, custom packaging.
EMI paper converting offers semi-automated and hand assembly paper converting for intricate work or start-ups, very small roll products or specialty paper packaging requirements.