Specialty and Technical Paper and Paperboard
Fish Paper, Lab Blotter Paper, Technical Papers, Absorbent Paper, and Die Cut Paper Available
EMI Specialty Papers has stocking programs for our customers with hundreds of specialty papers, boards, non-wovens and films available; basic and specialty tissues, and tags; custom and poly coated papers, blotting paper for sale, hot melt, as well as technical papers. We provide specialty papers wholesale to the medical, laboratory, electric appliance, filtration, and all other industries.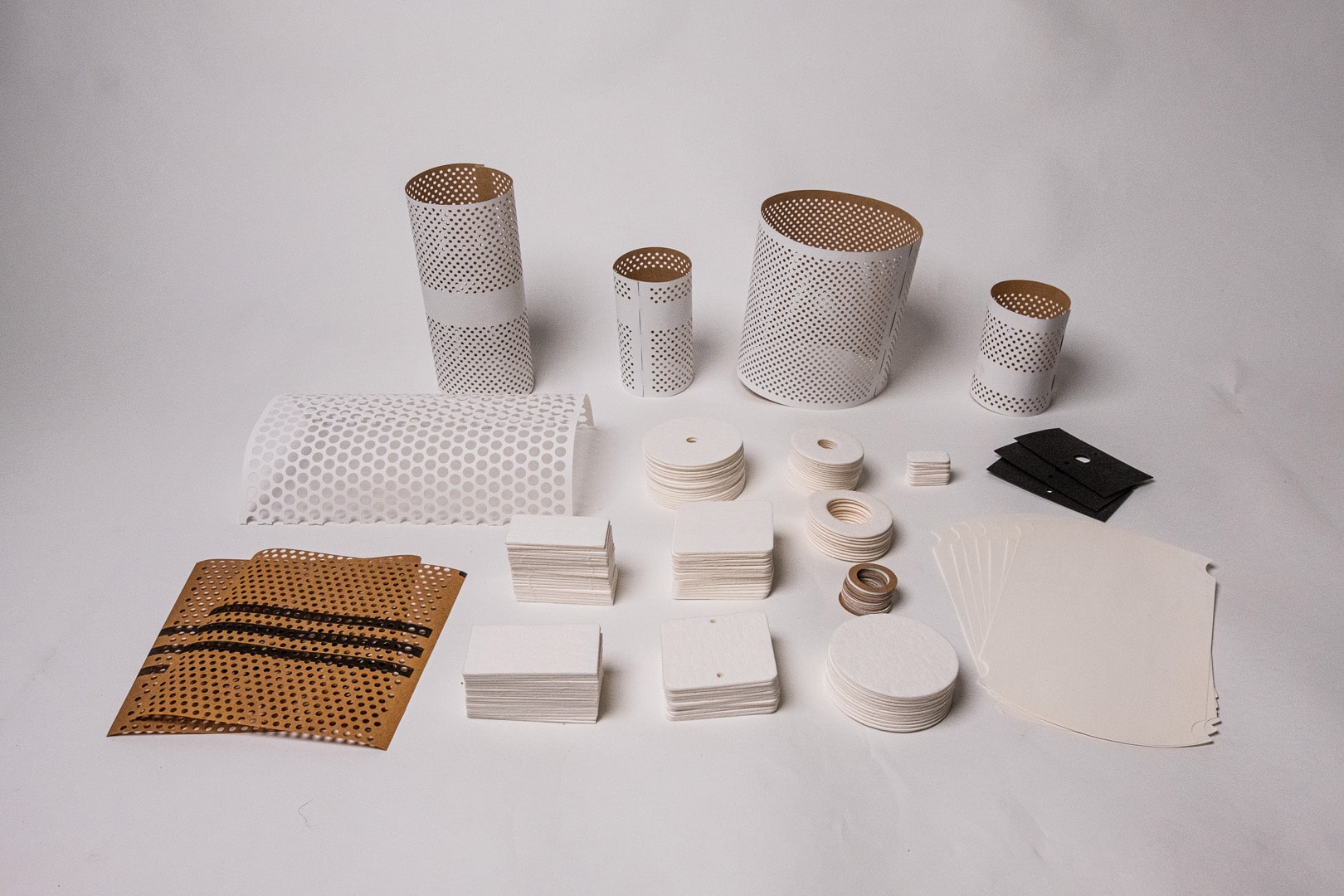 Fish Paper & Electrical Insulation Paper: Vulcanized fibre, dielectric papers, boards and films all available with adhesive backing; die cut, kiss cut or scored. Mylar®, Forbon®, Nomex®. Used for washers, switch and appliance insulation. Insulating specifications – our premium grades meet the following – ASTM D. 710 (NEMA VU-1), MIL F118, F10336, F13526, I695, JIS-C2315, UL recognized, rated 94HB.
Absorbent Paper: Technical & industrial paper & board for air fresheners, refrigerator absorbent pads, wicking, blotting, pulp testing and battery separation. Custom die cutting of absorbent paper, slitting and sheeting, discs, pads, circles.
Lab Papers: Absorbent blotter papers, blotting papers for lab supply manufacturers comparable to Whatman/GE. Paper thickness from .005″ to .500″. Blotter papers in rolls or sheets, die cut to specific shapes, perforated or scored. Biopsy papers, blotter pads, discs, rings and custom shapes, TAPPI pulp test blotter.
Wet Strength Paper: Papers and boards for filtration, absorbent grades, crêped and tag stock with kymene, latex, melamine and other additives including phenolic resin.
Tag Paper & Board

: White and manila in 100# (0.0077″ thick), 125# (0.0097″), 150# (0.0118″), 175# (0.0128″), 200# (0.0148″) in rolls, sheets, or die cut. Also available with wet strength.
Crêped and Extensible Papers

: For wipes, filtration, wicking, absorbent pads, tray liners, and flexible packaging; can be slit to narrow rolls or die cut to customer specifications; with or without wet strength in bleached or natural.
Coated Paper: Poly coated papers, heat-seal, cold seal, hot-melt, cohesive papers & boards.
Filter Paper

: For gases and fuilds; absorbent and blotting papers and boards die cut to customer specification. 100% cotton, wood cellulose, and blends in rolls, sheets and with or without wet strength for filtration, humidifier sheets, wicking, air freshener and aromatherapy pads. TAPPI pulp test blotter. We can sheet or die cut to customer specifications.
Pulp Test Blotter Paper: Used by paper manufacturers, because of its purity, to test their pulps while making paper. Available in many sizes, meets TAPPI Spec and ASTM T-205.