Fish Paper and Electrical Insulation Paper
Fish Paper, Vulcanized Fiber, Dielectric Film, Paper & Paperboard Available
EMI Specialty Papers carries a variety of high quality electrical insulation papers, including fish paper and films that are used in a number of electrical applications. Fish paper is a dielectric paper that is both durable and flexible and is used for many electrical insulation purposes.
Our fish paper, vulcanized fiber, dielectric papers, boards and films are all available with or without adhesive backing. They are also available as vulcanized fiber sheet stock and we have lighter weights in rolls, or we can die cut our fish paper and dielectric films to your unique specifications.
Our electrical insulating paper is widely used in many industries because of its high dielectric strength and outstanding electrical properties. Insulation papers are available in a variety of thicknesses. EMI Specialty Papers stocks, slits, sheets, and die cuts the many different types of dielectric paper and film in thicknesses from .005″ to .062″ thick. Our technicians can also die cut, score, or perforate to tight tolerance specifications the varieties of fish paper, vulcanized fiber and dielectric film that we stock. We can also laminate adhesives and kiss cut to make peel and stick intricate shapes. Also available is vulcanized fiber board.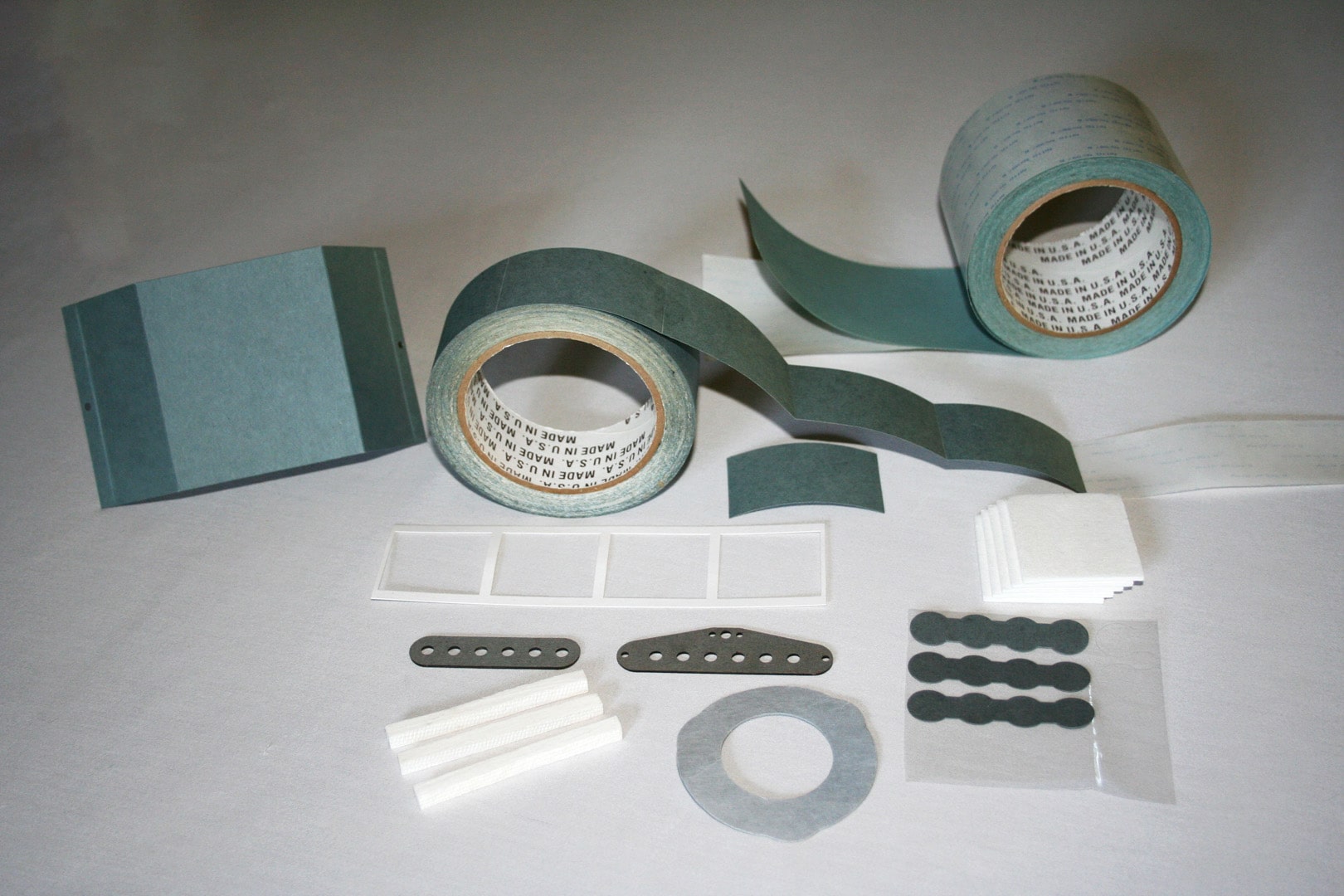 Also Available: Mylar®, Forbon®, Nomex® Insulation Papers
Nomex® products have characteristics which make them ideally suited for electrical insulation application. Used properly, Nomex® products can extend the life of electrical equipment, reduce premature failures and repairs, and act as a safeguard in unexpected electrical stress situations.
Forbon® has very high internal bond strength and even though it is pure cellulose, Forbon will not delaminate or separate, even in water. This product is made from high purity cellulose papers specially formulated to produce the desired end-use properties in various grades.
Mylar® is a film which has good dielectric strength and excellent balance of mechanical properties. Mylar also has high resistance to chemical attack, good thermal performance and excellent handling characteristics.
Dielectric Film & Paper
Dielectric paper and film is an electrical insulation paper used in many types of electric appliances and light fixtures and whenever dielectric materials are required to prevent arcing and when electrical insulation is needed.