What is Lacurel?
Lacurel is a Non-Silicone Release Liner made in the USA used for curing Rubber Coated Fabrics. It has Non-Silicone Release Coating on both sides and is currently used to manufacture Engineered Fabrics, in particular, Rubber Coated Textiles.
Lacurel is a 0.007" thick Non-Silicone Release Paper designed as a carrier for curing Rubber Coated Fabrics as they are heated in processes such as rotocuring, mandrel wrap curing, calendaring, festoon curing and other oven curing processes. Rubber compounds used in making these engineered fabrics consist of Neoprene, Nitrile, EPDM, Silicone, ECO, Butyl, Natural Rubber and others.
Lacurel has what is referred to in the industry as "FINISH C", engineered not only to release cleanly from many rubber compounds but also impart the desired smoothness / texture preferred in many molding, die cutting and curing processes as well as a finished surface.
Lacurel has its Non-Silicone Release Coating on two sides to facilitate rolling up of the cured or partially cured product while still on the release paper, offering more options for curing and transporting rubber compound in web form.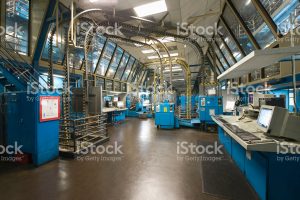 How is Lacurel used?
Lacurel Non-Silicone Release Liner is used to manufacture Rubber Coated Textiles such as Light and Heavy Conveyor Belting, Rubber Belting, Diaphragms, Food Belting, many Automotive and Aerospace Materials, Ziplink Belting, Gasket Materials, and many elastomers that are combined with different substrates such as Nylon, Fiberglass, Nomex, Kevlar, Cotton, Polyester, etc.
We make rolls 48" to 64" wide but have the capability to produce rolls up to 72" wide with the ability to slit smaller sizes. We are flexible on ID – OD and roll weights.
Contact us about Lacurel if you have questions or to request samples – info@emipapers.com