Coated Paper
Non-Silicone Release Paper, Wet Strength Paper, Polypropylene Paper & Polyester Paper
EMI Specialty Papers manufactures and stocks coated paper and paperboard for many diverse industries. Coated paper is paper or paperboard upon which a film has been laminated or a coating extruded. Following are some of our coated paper and coated paperboard specialties: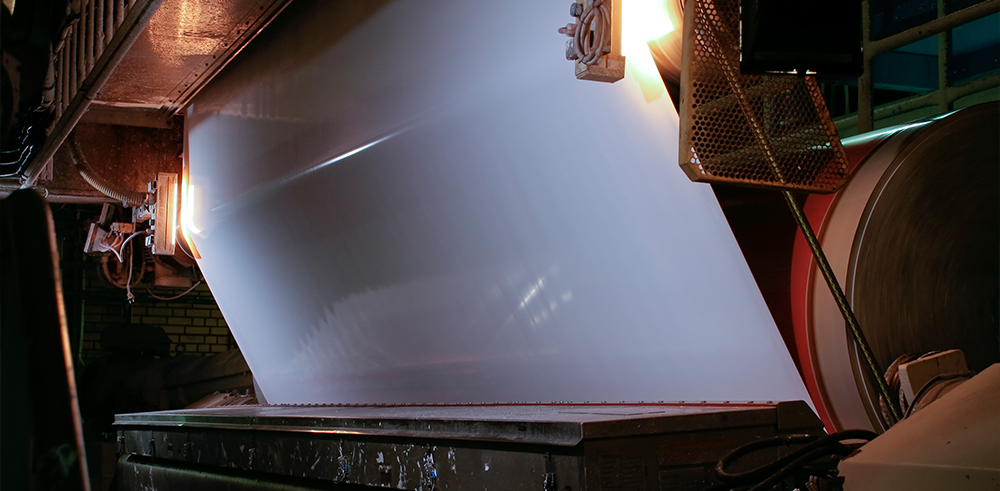 Non-silicone Release Paper: EMI makes Lacurel, a 0.007″ thick, heavy paper which is coated on 2 sides with a non-silicone release designed to release from heat cured rubber compounds.  Processes it is now used in include rotocuring, mandrel wrap curing, calendering, festoon, oven curing of the following rubber compounds:  Neoprene, Nitrile, EPDM, Silicone, ECO, Butyl, Natural Rubber and others.  The paper surface finish is finish "C", engineered to not only release cleanly but also to impart just the right smoothness / matte texture which is preferred in many curing, die-cutting and molding processes.  Because both sides of Lacurel are release coated it allows for rolling up of the rubber while still on the release paper, offering more options to cure and/or transport the rubber compound in web form.  Our customers use Lacurel to facilitate their manufacturing and processing of Engineered Fabrics such as Light and Heavy Conveyor Belting, Rubber Coated Textiles, Rubber Belting, Diaphragms, Food Belting, many Automotive and Aerospace materials, Ziplink Belting, Gasket Materials, and many elastomers combining with different substrates such as Nylon, Fiberglass, Nomex, Kevlar, Cotton, Polyester, etc.
Water Resistant Paper: Coated water resistant paper or wet strength paper, as well as papers resistant to oil, UV, grease and corrosion.
Polyethylene, Polypropylene & Polyester: Poly coated papers in low or high density, matte or gloss, one side or two, papers and paperboards, in different coating and paper weights. Heat-seal & hot-melt applications.  We specialize in wide rolls to 135″.
Release Paper: Quilon and polyethylene release papers in different weights; sheets and rolls, die cut shapes and discs.
Saturated Paper: Impregnated grades; latex and phenolic papers & boards.

Who We Supply:
The automotive filtration industry uses our perforated poly coated paper for filter wraps / shells.
Specialty pipe manufacturers buy our reinforced paper to protect coated pipe in transit and storage.
Our custom non-silicone release paper is coated two sides for use in vulcanized and processing rubber.
Our Quilon paper is a release paper used for casting foam rubber to make body armor.
We are one of the few who can coat polyethylene, polypropylene and polyester to 35″ wide, use in several industries where wide coated paper is require.